AJRAKH HAND BLOCK PRINTING
The Khatri community, whose ancestors have been printing with wooden ajrakh blocks for centuries, migrated to Kutch from Sindh. Ajrakh has two meanings: "keep it for today" and "like the blue sky with stars sparkling in the darkness."  Wooden and metal blocks carved with traditional designs are coated in dye and printed on cloth.  Stunning results are achieved through a process of hand printing, rinsing and sun drying.  The different patterns of each block fit together into colorful designs.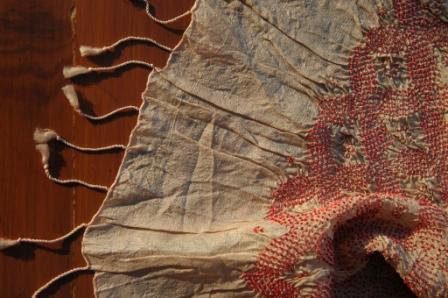 BANDHANI - TIE AND DYE
Bandhani artisans are from Kutch's Khatri communities of dyers and printers.  There are an estimated 15,000 women engaged in the craft, of which the majority are Muslim women living in Mandvi, Bhuj, Anjar, and Abdassa. These women work from home, tying cloth into traditional designs which are influenced by the local landscape.  Artisans print the designs on paper, transfer them to cloth, and bunch and tie the designs with thread. The tied cloth is then dyed in one or more colors depending on design.
BATIK HAND BLOCK PRINTING
Batik is one of Kutch's many traditional textile crafts.  There are twenty two batik artisan families working in the region.  Batik designs are created when artisans paint or hand print paraffin wax on white fabric.  Artisans use a collection of traditional and contemporary designed blocks to print flora, fauna, and geometric designs.  When the fabric is dyed, the wax resists the colorful dyes and leaves designs surrounded by color.  Today, Mundra is the Kutch's centre for batik textiles.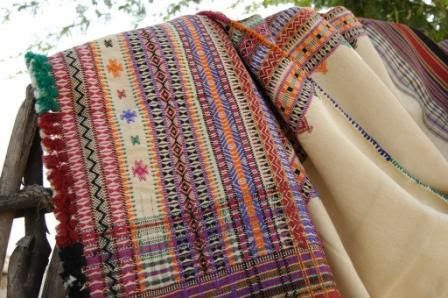 KUTCH WEAVING
Over 600 years ago, the Meghwal community from Rajasthan migrated to Kutch, bringing with them the art of handloom weaving.  Traditionally, weavers used hand spun yarn provided by Rabaris, a nomadic community of sheep and goat herders.  Weaving was a local art which provided Kutch communities with cloth and traditional dress. Traditional shawls, stoles, textiles, and carpets are hand woven with traditional motifs on pit and shuttle looms in local wool, cotton and silks.  Kutch weaving is known for distinct traditional motifs and colors.
KHARAD WEAVING
For generations, kharad rugs were woven from camel, goat, and sheep wool on traditional nomadic looms which could be easily set up and moved throughout the desert.  The rugs' geometric designs replicate regional patterns and motifs. There are only two remaining families in Kutch who practice this craft
MASHROO WEAVING
In Arabic, mashroo means "this is allowed."  This traditional fabric originated in response to a ban on wearing animal products including silk.  Mashroo was created so communities facing the ban were able to wear silk while respecting their tradition.  It is woven with a unique technique that combines silk and cotton.  The cotton is woven into the fabric's base and is the only material which comes into contact with the skin.  Silk is woven into the fabric's outer layer giving it the look of pure silk.
ROGAN
Kutch's Rogan tradition is sustained by two families in Nirona Village.  Rogan is a form of fabric painting which uses a thick, brightly colored paint made from castor oil. Artisans place a small amount of this paint into their palm.   At body temperature, the paint is carefully twisted into motifs and images using a metal rod that never comes in contact with the fabric.  Next, the artisan folds his designs into blank fabric thereby printing its mirror image and completing the Rogan painting.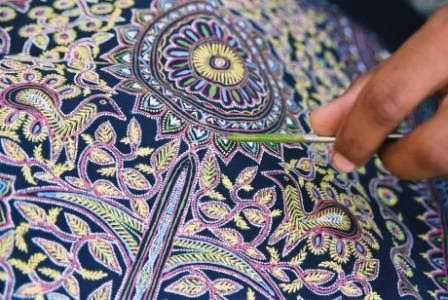 NAMDA
Namda artisans create felted wool works by pressing and hand weaving local desi sheep wool into motifs and designs.  Artisans traditionally produced namda khongir, padchi, and jeen, to cover the backs of horses and camels.  Namda is also used to make floor coverings and prayer mats.  Though a market remains for these traditional products and contemporary interpretations, only four namda artisan families continue the craft.  Kutch namda artisans are from the Mansuri community living in Gagodar and Mundra.